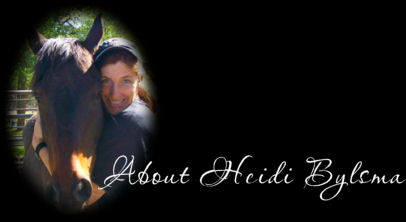 Heidi Bylsma has been writing professionally since 1999 when Judy and Arthur Halliday asked her to collaborate on their book, Thin Within. Click here to read Amazon reviews of the book.
Following this undertaking, Heidi began to write the curriculum for the online program called by the same name. Visit the Thin Within website to learn more about this approach or visit Heidi's online Blog to learn more.
In addition to writing for the Hallidays, Heidi and her husband, Bob, co-authored a piece that was published in a marriage devotional book, For Better; For Worse. (This link is also to Amazon--to editorial review.) They used a pseudonym for this endeavor as they chose to maintain their privacy while still offering to others the intimate lessons learned through challenge and adversity in their marriage.
In 2002, Heidi's and her family decided to move to the country to begin to live out Heidi's life-long dream of having horses! The excitement has been unending. When it became obvious that the horses that joined their family early in 2003, required a lot more knowledge and skill than Heidi or her family members possessed, Gail Ivey entered their lives and truly saved the horse dream from going down the proverbial "tubes."
Not an ordinary "horse trainer," Gail patiently trained *Heidi* to see that Horse would be the most excellent teacher of all. Under Gail's patient guidance and utilizing amazing gifts, Gail impressed Heidi with the value of believing the best about Horse at all times. Heidi began to learn to recognize and "reward the try."
Heidi has written about Gail here.
When Gail moved away from Heidi's town to pursue other opportunities, Heidi floundered somewhat in her horsemanship. During this time, she began taking more "flying lessons" from her horses than she cares to admit. Concerned about breaking bones at the ripe old age of 44, Heidi took to playing with the horses withOUT being mounted. They enjoyed clicker training, dabbling in some Parelli Natural Horsemanship (or Heidi's version of it) and generally just enjoyed less pressure all the way around. Leanne Tindall, an internet friend from Australia, had a profound influence on Heidi's horsemanship during this "limbo" time.
In January of 2007, Melissa Pelletier entered Heidi's life (website for Melissa is to come!). As Heidi began to release 100 pounds of excess weight she carried through Thin Within, she began to ride Breezy again. In April of 2007, Harley went for a month to Melissa's place. Several times a week, Melissa worked patiently with Heidi and Harley together, helping Heidi to build her skill and her confidence so that by the summer of 2007, Heidi was able to fulfill her dream of riding the trails with her "Harlinator!"
She is indebted to her dear friend, Susan Pendsinski, and her horse, Kody, for being willing to "babysit" Heidi and Harley during those summer. Summer of 2007 was the best summer Heidi has ever enjoyed in her entire life! It was a summer filled with horses, horses, horses! And, most of all...HARLEY!!!
Both of the trainers from whom Heidi has learned so much--Gail and Melissa--have been influenced by Harry Whitney. In October of 2007, Heidi got to attend a week long bible horsemanship camp at On the Way Ranch. The week featured Harry Whitney and Ronny Moyer, who did the bible teaching. It was an amazing experience and Heidi is still trying to carve out time to put all her clinic notes online. She learned so much. An overuse injury for Harley just before the camp meant Heidi took Dodger, her mustang, to the Harry Whitney camp. Melissa Pelletier joined with Harry in giving Dodger and Heidi the most memorable and meaningful week imaginable!
Heidi has written about her horsemanship journey since the beginning, posting her thoughts anywhere any audience would "listen." This resulted in writing and submitting a story for Chicken Soup for the Horse Lover's Soul, Volume II.
When Heidi isn't playing with her horses, she is homeschooling Daniel (almost 16 years old) and Michaela (almost 14 years old). When she happens upon any additional spare time, she does graphic design and web hosting on the internet--Spirit of Equus Graphic Design.