Welcome to one of my online worlds!
This is my "Pasture Ponderings" website.
Here I share with those so bold as to travel through all about the life lessons taught me by our horses. The learning curve continues to be rather steep! The lessons continue!
If you want to learn a bit more about me, the "About" button to the left takes you to a page where you can learn about me and my horsemanship journey.
One of the ways I process what I learn is by writing copious quantities of verbage. If you are interested, The "Writing" button will share some links to some of my written work that is available online. My horses teach me so very much. Some of these lessons have come day by day in some of the mundane moments of life. Others are more ...er... "significant"...and cause me to write at length as I try to process.
If you want to see my horses, please check the "Photographs" button to the left. We have videos and images viewable online. My kids and dogs are there, too! Of course, our great Benefactor is, too! None of this would be possible without my husband, who patiently foots the bill for all of this "fun!"
The "Our Herd" button will take you to links for each of our four horses, where we tell you a bit about each of them. In the case of Doc Tari Zebra, we have a number of web pages designed to share his story with those interested.
I don't know what I would do without a sense of humor. When a horse goes lame just as things are progressing beautifully in our training, when a saddle I spent a fortune on clearly pinches my most reliable horse, when I discover a new way of thinking that makes me regret things I have done with my horses and causes me to appreciate just how "forgiving" they are--well, it helps to have a sense of humor. The "Horse Hysteria" button takes you to some of our silliness. I have to laugh at myself and, sometimes, at my horses, too! I think it is ok, though, as I have heard them guffawing rather loudly outside when they thought the house windows were closed! :-D
If you found your way to this site via the link in the Chicken Soup for the Horse Lover's Soul, Volume II book and want to see pictures of Dodger and Daniel and their special connection, please click on the image of the book cover below.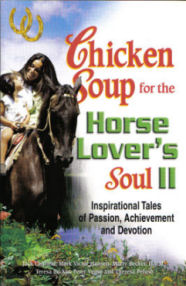 I hope you enjoy your visit!